Ai Weiwei: Never Sorry 
The first feature length doc on the iconic Chinese contemporary artist, Ai Weiwei. Coming 2011.
January 8th, 2011 by Jeffrey Pena
via http://www.curbsandstoops.com/alex-kanevsky/
Alex Kanevsky is a Philadelphia based painter whose work is focused on the figurative tradition. Kanevsky, has devel oped a stu­dio practice based on a stubbornness to continue reworking the images. As such, his paintings are infused with a history of the artist's hand. A physical endeavor where the paint itself is used for its material properties rather than a medium for rendering. The paintings become artifacts to themselves.
An American transplant from Russia, Kanevsky, went on to study at the Philadelphia Academy of Fine Arts where he rebelled against the strict pedagogue, wanting only to paint without inhibition. Rejecting any restrictions to making work, Kanevsky, doesn't write artist's statements for his pieces. Basically, the work speaks for itself.
Kanevsky's will be the Curbs and Stoops takeover artist in February where he will share a recent painting, "Interior with meat."The painting is currently available at J. Cacciola Gallery, who represents Kanevsky in New York.
Michaël Borremans: A Knife in the Eye [english subs]
Article via http://www.economist.com/blogs/prospero/2011/11/artwork-maurizio-cattelan
Nov 8th 2011, 13:06 by S.T. | NEW YORK
MAURIZIO CATTELAN'S solo retrospective is a "mass execution" according to Nancy Spector, the deputy director of the Guggenheim Museum in New York. The "abject" installation, she added when introducing it to the press, treats individual artworks like they are "laundry hung out to dry". This is no ordinary retrospective. Survey shows tend to offer a respectful chronological look at an artist's oeuvre, accompanied by a hagiographic catalogue, as a means of inserting the artist into the canon of art history. But Mr Cattelan, a high-concept Italian artist once described as "half saint, half dog", is resistant to this rite of passage.
Titled "All", his show is an anti-retrospective. It doesn't look back as much as throw everything up in the air, or rather hang it, gallows-style, in the atrium of the museum. Important works are deprived of their majesty whilst minor works—or ones that the artist "had forgotten [he] had fathered"—are elevated. With the exception of a disturbing sculpture consisting of three boys with nooses around their necks ("Untitled" 2004), the individual works have looked better when installed elsewhere. But this curmudgeonly criticism misses the point. Treating artworks this way is an audacious transgression, and suspending the works in mid-air affords some drastic re-interpretations.
The Guggenheim Museum, designed by Frank Lloyd Wright, is an exemplar of the age-old competition between architects and artists. It is notoriously inhospitable to art, particularly because its central atrium offers a more engaging spectacle than the official exhibition spaces that are aligned along the winding ramp. But Mr Cattelan effectively upstages the building by placing all his work in the light-filled centre. When "All" is seen from the top of the museum's rotunda, viewers are struck with vertigo. When regarded from below, they imagine being crushed. The show, intended as a single meta-work, is admirably visceral.
Mr Cattelan, a 51-year-old bachelor who admits to an unhappy childhood, sees his oeuvre as his family. Populated by hyperrealist waxwork humans, including a bevy of self-portraits, as well as sculptures made from taxidermy animals, many of his pieces are enlivened by animism. "I am happy as long as they don't live near me," he once told this correspondent. "When they are conceived, I cuddle them but the moment they are released, they become orphans. Mostly I hate them."
The opening of the exhibition has coincided with the announcement of the artist's retirement. It may be an astute move on Mr Cattelan's part to absent himself from a phase the art world calls "mid-career", which is often characterised by the doldrums. But it is unlikely the artist will actually give up work, even if he is disinclined to produce saleable high-end art objects. At the moment, he is passionate about Toilet Paper, a magazine of surreal images that he makes with the help of Pierpaolo Ferrari, a photographer. The magazine has a print run of 6,000 and retails for $12. It is basically a non-profit enterprise underwritten by the Deste Foundation of Dakis Joannou, a collector.
Mr Cattelan's persona is engulfed in myths, including one that he is an undisciplined slacker who became an artist to avoid real work. But he is actually a workaholic with an obsessive-compulsive streak. When in New York, he works in his spacious one-bedroom condo on the 9th floor of a renovated pre-war building in Chelsea. His Mac sits on a large Swedish rosewood table in the middle of an art deco rug at one end of his bedroom. Behind his desk is a fake fireplace, the mantle of which hosts works by other artists, and a golden candelabra in the shape of a stag's head. On weekdays the artist doesn't drink. He rises early, swims laps for over an hour, and is back at his desk by 8am.
Mr Cattelan spends a lot of time researching his projects via Google and realising them via Skype. He lives in New York less than half the year, so has other "workstations" in Milan, Costa Rica and Filicudi, an Italian island north-east of Sicily. He says that he needs to retire because his life has become too driven by routine. "Sometimes going from A to B is too straightforward. You miss the unexpected Z or W," he explains. "I need to take a long break and get some distance."
Indeed, staying creative over a lifetime is not easy. Perhaps more artists should quit for a while in order to avoid the ruts of repetition. "Being an artist is a role game. You can play whatever role you want because you are the one writing the rules," says Mr Cattelan. "Retirement opens the game again. It can mean anything these days. It is a magic word that gives you freedom."
"Maurizio Cattelan: All" is on view at the Guggenheim Museum in New York until January 22nd 2012
Occupy Wall Street's "No Comment": A Cautionary Tale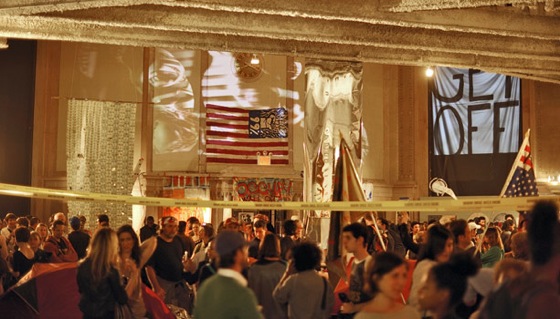 No Comment, the Occupy Wall Street art exhibition, is even more rife with controversy than when it opened.  Following speculation that she may have been using the Occupy Wall Street movement to pay back the rent owed from her previous 9/11 show, curator Marika Maiorova is now facing backlash from No Comment participants over last-minute changes in sales contracts.
While deinstalling Saturday's initial No Comment show, artists and Occupy Wall Street volunteers learned that Maiorova had extended the length of the show, and rental agreement, with an anonymous $5,000 donation through Occupy Wall Street. The show ran for another four days, with a closing party and auction scheduled for Thursday, October 13th.  Two hours before the auction, OWS reps and artists received emails informing them of a new sales contract.
The original contract had promised to allocate funds in thirds to artists, dealers, and either the Occupy Wall Street fund or the Feelgood Foundation for 9/11 responders. The new agreement reads: "50% of the proceeds go to: Loft in the Red Zone Gallery to recover the costs of the Event.  After recovering costs further revenues from the 50% commission will be shared between LOFT IN THE RED ZONE and optional either OCCUPY WALL STREET or FEEL GOOD FOUNDATION."  This means that charities are placed on the back burner in favor of a 50/50 split between artists and dealer, with the promise that, once costs are met, the commission would be split equally between the gallery and charities.
As costs were running high, it would be unlikely that either the Feelgood Foundation or Occupy Wall Street would see any proceeds. At this point, there were severe financial problems left over from the 9/11 Memorial show: Maiorova's Kickstarter for "Loft in the Red Zone" scrounged only $448 out of its $20,000 goal. Artists were further affronted by the hastily-written addendum:
***The artists commits: Art works not sold in today's auction, RED ZONE IN THE LOFT will receive 15% commission of artists revenues if this art piece get sold in other venues/galleries, etc.
Both volunteers and artists were outraged at the proposal of a seemingly life-long commission owed to the dealer of a one-time group exhibition that had included their work for less than a week.  Not only does this violate acceptable dealing standards, they argued, but it circumvents artists' established contracts with galleries and the movement on which the show was centered.  As one OWS volunteer pointed out, "Some of these artists already had gallery representation. There was no consensus.  There was none of the democratic process of Occupy Wall Street in those meetings."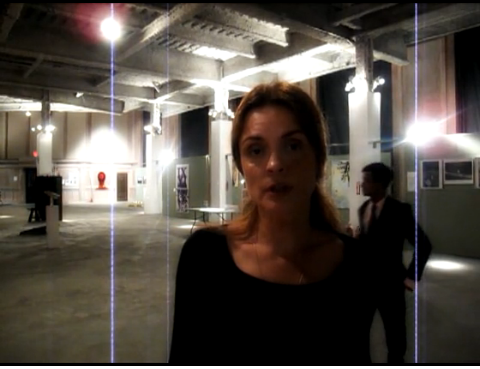 Maiorova believed her requests to be perfectly reasonable. Apparently, so did the artists and lawyers; according to Maiorova, only three out of 45 artists did not sign on to the contract, and when she spoke to her lawyers (admittedly after the fact), "attorneys, every one agreed it was legal and not immoral."  Decisions were made and contracts drawn up without Occupy Wall Street's total consensus process because the show was extremely last-minute and would otherwise have been impossible to execute. The added fee, she claimed, went to an auctioneer who, as a favor to the movement, charged 20% of the final sales, rather than his usual 50% commission.  And of the added 15% fee?  "Most artists didn't have a problem," said Maiorova.  "We felt it was only fair, for all the work we had put in promoting the pieces. Those works will sell afterwards because of their participation in the show…most artists don't have gallery representation."  The show is now moving to the Chelsea Museum, where most artists, claimed Maiorova, were happy to follow.
Maiorova denied incorporating any debt from the 9/11 show in the fee and claimed that she had paid her rent for the 9/11 show by September 30th.  And anyway, there was hardly any profit from No Comment. "I'm a first-time curator," she told me.  "It was all rushed, and by the end, I felt very discriminated against.  We were there from 10 AM to 12 AM, midnight, working nonstop, and [Occupy Wall Street] people would often come in just to meet and hang out.  [Eventually] they boycotted me, and when I was moving, I found myself cleaning up everything on my own: all the wine bottles, water bottles, and trash."
On the controversy following the extended show, independent volunteer and curator Frank Shifreen commented that it's unwise for protesters to condemn Ms. Maiorova.  "They need friends. She made mistakes, and people can learn from it."
The "No Comment" debacle coincides with many franchises that have sprung up on the heels of Occupy Wall Street. "Co-opting the movement" is now a common turn of phrase used around Zuccotti Park, as a slough of private groups, T shirt vendors, and the like are finding more ways to make a profit without donating anything to the movement.  Café Press, an online T-shirt and accessories merchant, has put out an excessive variety of Occupy Wall Street stuff, from thongs to polo shirts to baby bibs that read "UNFUCK THE WORLD."  This has generated a reluctance for OWS organizers to partner with outside groups, franchises, or political parties, as did the Arts and Culture committee with Loft in the Red Zone. In retrospect, it may be worth asking to what end; how worthwhile was it to burn a flag of dollars or to hang protest signs in the JP Morgan Building?  I got the sense that most people, protesters and outsiders alike, would be glad to do away with crazed fundraising efforts and last-minute events in favor of carefully building something that might last.


by Brinson Renda on October 10, 2011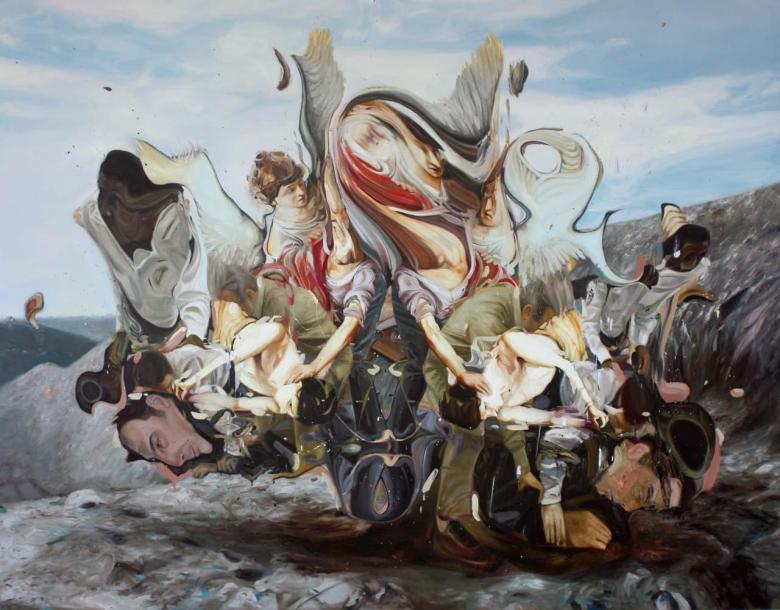 For Wynwood's Second Saturday, I made my way up to the Design District to check out San Francisco based artist Joshua Hagler's first solo show at 101/exhibit, properly named, 'Perceptions of Religious Imagery in Natural Phenomena.' Freshly settled back in the States from his 6 month residency at MIRA in Martignano, Italy; one can see the direct influences this residency had on him. Pulling from his personal Christian upbringing, obscure Catholic Churches he explored in Italy and the classical baroque interiors of those spaces, Hagler fuses these references into something wonderful. I'd like to take you on a personal tour and urge you to go & visit this exhibit that's on view till November 26th. 
Walking into the main room, your first view is 'I was being tempted regularly…' a collision of figures and classical Caravaggio-like angels exploding, or perhaps about to implode. Either way, it's a sense of the actual fragment in time in which this event is really happening, or so it feels. At first glance, I notice his playful nature with smearing and symmetry. In fact, many of his works share these features. At first all I could think of was the use of a digital sketch. Like, "oh great, another artist 'Photo-chopping' a collage and just painting it out." But it's not, especially after I got to pick his brain on this issue. He utilizes digital software's as a tool and he doesn't lean or depend on them to produce his works. I was so glad to hear that. It didn't matter though, his absolute control over the medium and exquisite grasp of composition melted away those thoughts.
At any rate, if you just release your eyeballs into his paintings, I assure you that they'll have an adventure. I found myself lost, in a refreshing way, between the lathery dollops of paint and the jolts of color atop the muted wastelands that served as backdrops. I could really see motion in his works, as if I could see him moving about the canvas while creating them.
The  next pieces in the exhibit are two large panels, displaying a zooming train with figures participating in a 'roller durby-mosh-pit-race-o-rama' event. (Yes, I have to include all of that so you can picture this)! Falling from the heavens are skydivers and once again, you can just feel the hyper activity in these paintings. Appropriately hung next to each other, I wonder if this is another religious inspired practice, like making a modern diptych that is trying to be didactic to its viewer. I'm not 100% on its lesson, so to say, but that's what they channel to me. None the less, I like the double perspective because adds even more depth.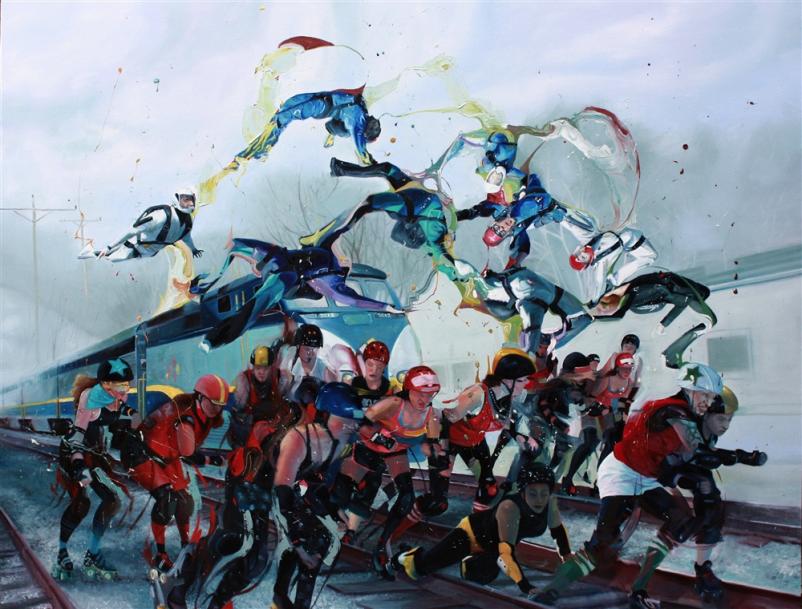 The last large panel in the main room is my personal favorite, 'The Mind Recedes…'! I I love the carnage and desolate landscape filled with a Dalí-like swirling of paint, like a message to be decoded. I'm picking up a lot of sexual energies in this one, borderline pornographic. Mmm, sex, death and gore… sounds like a great movie! I noticed the comic hero Spiderman, lying on his back, ripped apart, muddled atop a garden of dead meat chunks. On top of Mr. Parker, is a 3D rendered head, painted on canvas, cut out and mounted on the final painting. Perhaps it's like skin touching skin, since this 3D headed figure seems to be 'necromancing' Spiderman. You can clearly see the figure has a firefighter jacket on. May be it's one real hero injecting faith into another fictional hero? I can't say for sure, but I'd like to believe it! Overall, this work is intense, gory, comical and de-licious!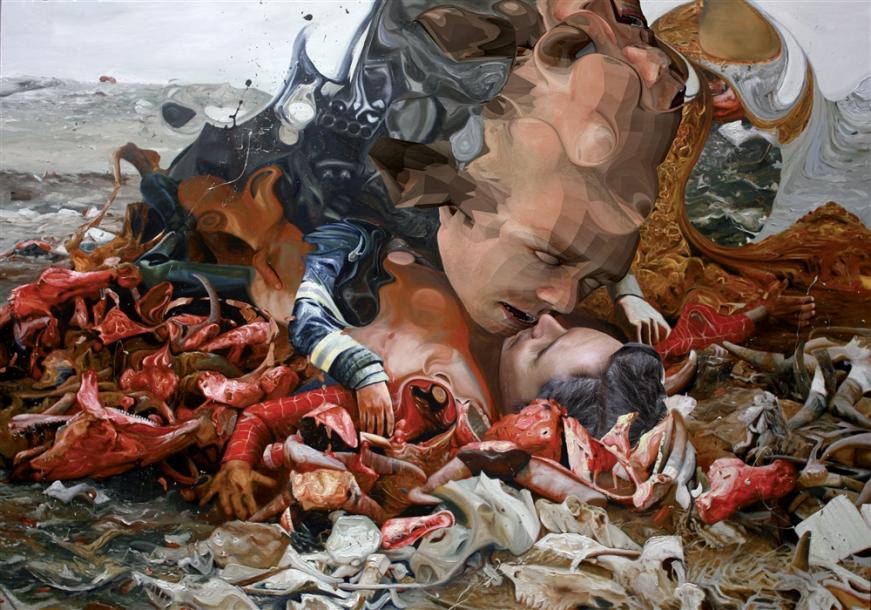 In the second room of the gallery space, there's a different batch of 'faith' inspired works that seamlessly ties into the main room. Hagler mentions that they are earlier works, before the residency. You can clearly see his thought processes and complete evolution in everything combined here. I feel a more playful side of the artist in this room. More cartoon characters to perhaps give light-heartedness to the scenario's Joshua depicts to the viewer. In relation with religious influences, one can reference faith, dedication, sacrifice, and saviors. I noticed more and more firefighters (and I want to say coast guard figures) in these paintings. They are all depicted in the act of saving a life. Perhaps overall, it's the recognition of everyday hero's or civilian saviors that sacrifice themselves, selflessly… for us. On the surface, each panel is a lathered concoction of color exploding from a monochrome world, fluid movement and a warped sense of humor to give you a smirk. I'd rate this show as 100% delicious. And lets just say that my eyeballs are still creamy from last night's excitement. Bravo!
ART THOUGHTZ: The Female Gaze, with Special Guest Tamara Suber (NSFW)
ART THOUGHTZ: To Catch A Millennial (Live at the Museum of Contemporary Art Chicago 9-07-11)
By: Ian R. Solano
After two children and an 8-year hiatus, Jenny Saville has returned to The Gagosian Gallery's Madison Avenue headquarters with her new exhibition "Continuum."  Jenny Saville is notoriously synonymous for her grandiose portraits of fleshy women, transvestites, and transsexuals.  Her paint quality is extremely sensuous, luscious, and tactile. She renders highly accurate, deliberate, and atomically proportional or distorted forms through various mark making techniques. 
She shifts between bold, gloppy marks of saturated colors and meticulously applied subtler colors.  She pragmatically renders sections of the composition, while leaving other less worked.  This viscous paint application, lends a hand to the grotesque qualities of her subject matter.  Highlighting, her specific interest in the morbid dis-figuration of the human body.  Additionally, emphasizing her political and feminist undertones that play part throughout her work.
 From close proximity her paintings are abstract compilations of layers and marks.  While, in contrast, from a more panoramic view, the shapes begin to waltz together in a melodic harmony.  Her work appeals to a clear intrigue she has for the nuances of the human figure.  This is also displayed in her preparatory process.  Similar to Leonardo DaVinci, Saville spends countless hours researching and studying the human body; including medical records.
In juxtaposition to her previous work, "Continuum" appears to be an attempt at a more delicate approach and subject matter.  Emotionally, the works felt more vulnerable and intimate.  They encroach on a more direct and visually tangible or palatable window of "real life".  
The focal point of the show consisted of a few large scale self portraits that included her two children.  The paintings were executed with similar stylistic and painterly techniques of previous, but now containing a much heavier emphasis on drawing.  In this series, Mrs. Saville incorporated beautifully drafted charcoal lines.  Lines which their structure and composition and movement resembled the lines of crayons on paper, as children play. These lines had an unprecedented vigor and confidence to them, displayed in the strength of the artist hand. Additionally, they assisted in increasing optical depth of the work.  This depth and fracturing of space through these linear techniques and paint application also proved to be quite successful and gave a certain aura of life to the paintings.
My only criticism of the show was the lack of depth in terms of shear numbers of work.  I feel as though Mrs. Saville has hit a new avenue to explore but has yet to fully embark on this creative journey.  She instead deterred back to the same, now humdrum works we have come to expect.  "Continuum" hopefully is only a microcosm of what is yet to come in the artistic evolution of Jenny Saville. 
At 40 years old, is Jenny Saville beginning to evolve, with a little help from motherhood?